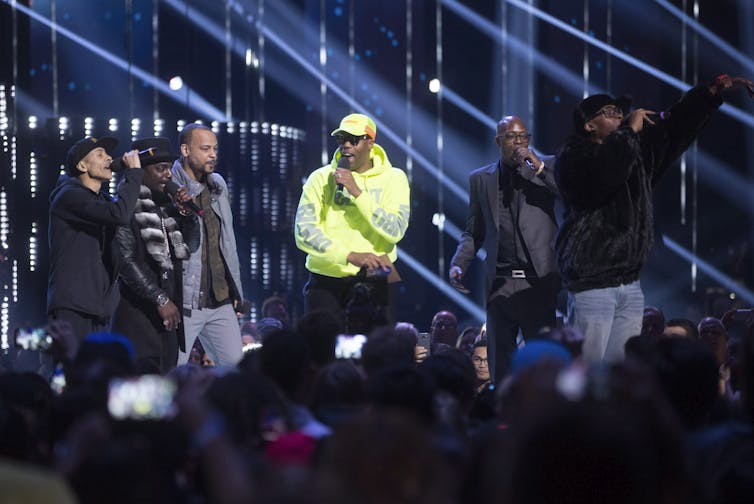 Mark V. Campbell, Ryerson University
This year's Juno Awards honouring Canadian music achievement decided to finally celebrate Canadian hip hop by inviting the Rascalz, Kardinal, Thrust, Choclair and Checkmate, the artists from the legendary "Northern Touch" song to this years awards ceremony. Why?
It might be due to decades of guilt built up from ignoring one of Canada's leading creative forces. It could be the public accountability demanded on social media platforms in the attention economy. Or it could be a genuine realization that hip hop is a driving force in the music industry and not the "fad" many naysayers believed it to be for the last 40 years.
Canadian hip hop currently leads the global music charts and that is no thanks to the Juno Awards. Both R&B and hip hop artists in Canada have found ways to build global audiences often beyond or before the assistance of major industry players.
Awards ceremonies are usually considered important infrastructure in the growth of a musical genre. They can create greater visibility to transition a musical genre from a local or avant-garde scene to a commercially viable product garnering national attention and industry investment. However, in a non-linear global media environment, a local music scene can now attract national media attention or gain mass appeal across various national borders.
What this means is that the kind of exposure an awards show might have once provided is replaced with high artist visibility on multiple digital platforms, such that an artist like Daniel Caesar from Oshawa, Ont., can sell out concerts in Australia before ever being nominated for a Juno award in Canada.
Back in 1989 when the Jazzy Jeff and the Fresh Prince decided to boycott the Grammy ceremony and decline their award their actions did not adversely impact their success. Rather, what became clear was that the awards industry benefited from appearing relevant by including the genres of blue grass, heavy metal and rap in new categories that year.
For many of the nominees this year, like Caesar, Jessie Reyez, Tory Lanez and Belly, the Junos cannot propel their careers in the same way artists 20 years ago might have imagined. Back then the hip hop scene in Canada, consisted of artist communities, fans, record companies and other small businesses. It was limited by geography, a lack of positive media coverage and a lack of easy global communication.
A Northern Touch:' 20 years ago
By having the Vancouver-based Rascalz participate in the award show, 20 years after the group refused to accept an untelevised award for best Rap album, 19 years after they won the Juno for best Rap recording for the crew track "Northern Touch" in 1999, the Juno awards committee gestures towards truly celebrating the contributions of Canadian hip hop artists.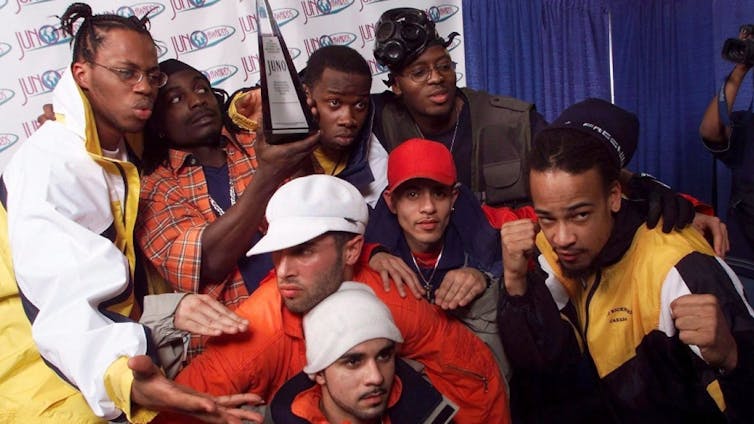 The 1999 performance of the song "Northern Touch" was the first time a hip hop group performed on the Juno Awards since the inception of the award category in 1991. This was despite the fact that hip hop had vibrant scenes in cities like Toronto and Montreal dating back to the late 1980s. Sadly, it would take more than a decade for the Juno Awards to provide a national platform to showcase Canadian hip hop talent since the emergence of the genre's first Canadian stars, Rumble, Michie Mee and Maestro Fres Wes.
The song, which brought together Toronto-based artists Thrust, Choclair and Kardinal Offishal with Vancouver-based crew the Rascalz and fellow West Coaster Checkmate, became one of the most significant songs in Canadian hip hop history and grew to be an anthem that united and galvinized a generation of Canadian hip hop fans.
As Matt Galloway wrote in NOW magazine 1998, it almost single-handedly transformed the genre from an underground movement into a viable commercial endeavour.
The timing of "Northern Touch" couldn't have been better. Scarborough native Choclair was on the verge of signing with Virgin Records, and hip hop music had begun to outsell country music in 1998 in the United States). Around that time, peer-to-peer culture like Napster had started to disrupt the music industry — possibly increasing the reach of the song.
As Kardinal explained, once on tour it became clear people across the country loved the record and had learned all the words of his high-powered chorus. The lyrics of the track spoke to many:
We notorious, ain't nobody can hang with us,
Rascalz, Checkmate, Kardinal and Thrust, Choclair coming down with the northern touch"
Limited recording industry support in Canada
Despite having the Cash Crop album that would go on to earn gold status in Canada, the Rascalz' "Northern Touch" song was originally designed for an urban compilation album that was eventually canned due to a "lack of market viability."
Canadian hip hop artists, (who were tearing up stages alongside major American acts in the late 1980s) Maestro Fresh Wes, Rumble and Michie Mee got recording contracts before the Junos even had a category for rap music. However, the success of these artists revealed a telling trend: they all received recording contracts from non-Canadian record companies.
No Canadian record labels took a chance on Canadian hip hip in its earliest years. Maestro was signed to Germany's LMR records, Rumble to Britain's Gee Street/Island Records and Michie Mee to First Priority Records/Atlantic Records in the United States.
The current global dominance of Canadian music on today's Billboard charts obscures the difficulties many early hip hop artists faced in getting local support for this country's hip hop artists. So despite mainstream recognition from the Juno awards and a largely indifferent recording industry, hip hop music in Canada ensured, laying the bedrock for the immense number of pop, R&B and hip hop acts that have been dominating the charts since Drake's earliest crossover hits in the late 2000s.
Under these conditions, it appears the Junos are too late in their belated celebration of hip hop in Canada as their power to raise the profile of Canadian artists has dissipated. Instead, the combination of a determined resilience and the leveraging of social media have helped move Canadian hip hop onto a world stage, a stage in which these hip hop artists are shining brightly.
Here's a brief look at several artists you should know who made possible Canada's dominance on today's charts.
Dream Warriors: 'My Definition of a Boombastic Jazz Style'
Released by an imprint called BeatFactory Records in 1991, this group — originally from Toronto's Jane and Finch neighbourhood — would go on to sell more than 800,000 units in Europe after headlining a 27-city tour across the continent. Despite winning a Juno award, the Dream Warriors would not sell 800,000 units in Canada.
Kish: 'I Rhyme the world in 80 days'
Kish was a half-British, half-Japanese emcee who was signed locally; he's known for his blistering rhymes and wit. "I Rhyme the world in 80 days" received regular air play on Muchmusic. Kish would later be nominated for a Juno in 1992 for the song "She's a Flirt."
Rumble, featuring Margaret Young: 'Safe'
"Safe" was originally recorded in Jamaica with legendary soundsystem King Jammy's. Rumble, a Scarborough, Ont.-based emcee, signed to a label in the U.K., exemplifying the global resourcefulness needed by Canadian hip hop artists to develop careers when local infrastructural support was sparse.
Rascalz:'Northern Touch' Juno Performance
This was the Juno Award's first live hip hop performance seven years after the awards show developed its first category recognizing rap music.
Mc J & Cool G: So Listen
One of the earliest groups to come out of Eastern Canada, this group represented Halifax and found their success with a mixture of R&B and hip hop.
War Party: Feeling Reserved
This track garnered a regular rotation on MuchMusic. This trio broke through into mainstream Canadian media with their personal ethnographic take on life on a First Nation's reserve.
Michie Mee: 'Jamaican Funk'
This hybrid mixture of reggae, funk and hip hop aptly captured a new generation of Caribbean Canadian youth whose dynamic diasporic culture deeply influenced the emergence of hip hop culture in Toronto.

If you want to hear more, a few of these and other pioneering artists can be found on the Northside Hip Hop playlist:

Mark V. Campbell, Adjunct Professor, Radio and Television Arts School of Media + Director for Cultural Strategies, Faculty of Communication and Design Forum, Ryerson University
This article was originally published on The Conversation. Read the original article.